Our Story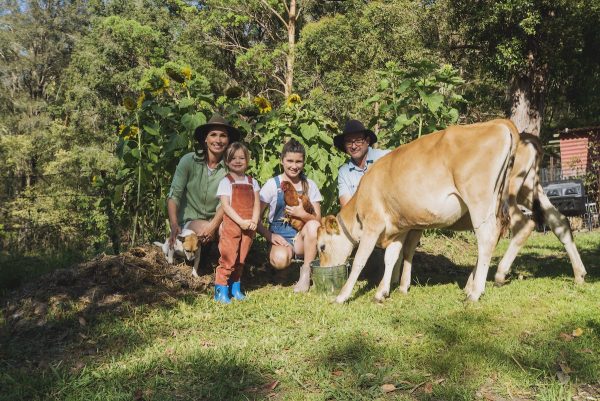 Our family is Anna and Peter Axisa, together with our two beautiful, energetic daughters, Lacey and Elke. We live on a 10-acre mountainside in the Manning Valley, NSW, Australia. In 2014, years of manifestation rewarded us with a steep-sloped, overgrown property with no infrastructure or services. Others thought we were crazy to take on such a seemingly impossible site, and we agreed that with not much money or experience behind us, it certainly would not be easy. At the end of the day, it was the only affordable option, and we quickly decided we were up for the challenge. Our shared vision was to transform the property into a regenerative permaculture paradise and forge a self-reliant future for our family.
We had dreamed of living and working on the land but were looking for a sign to point us in the right direction. Then we got it! I came across an online advertisement for a small, rundown, compost worm operation for sale. A persuasive proposal landed us some investment and we purchased the business.
The flow-on effect from that moment is still unbelievable to us, and to most who hear our story.
Neither Peter nor I had any prior experience in vermiculture (worm farming), only the desire to work in harmony with nature and what we thought we knew about living on the land. The adventure had begun, and worms quickly became our passion. Many hours were dedicated to researching, trialing and shoveling horse manure from paddocks onto a tarp in the delivery van! It has not always been easy, especially when starting out with little but our dreams, however, we pride ourselves on having the ability to readapt, based on the feedback we gained from failing, which has always led to success in one way or another.
There is something humbling about going without. We camped out under a tarp for months while we worked on the new worm enterprise until a suitable site was excavated, and a shed finally constructed. Solar shower bags, dug-out toilets, lights run off old car batteries, and ice-filled eskies became our everyday reality. The family 'rewilded' together and developed a love for a back to basics, life of voluntary simplicity. Every upgrade has been and still is, monumental and meaningful.
In 2016, at the age of 26, I was diagnosed with a chronic immune disease – but this certainly has not deterred us from moving forward and continuing to achieve our dreams. We have adopted a 'food as medicine' approach to our lives and are grateful to the worms for producing fertile, organic soil to grow nutrient-dense food. We strive to live regeneratively, based on the foundational ethics of earth, people and future care, guided by the principles of permaculture.
The compost worm business has slowly but surely begun to flourish. This has allowed us the opportunity to transform this once seemingly unusable mountainside into a resilient landscape full of abundance, and the shed into a 'shouse' (shed house). Every addition and creature comfort has a story and most often a few previous versions we will never forget.
Peter and I laugh that we are most definitely still a 'boot strap' operation, which is kind of how we like it. Our family is proud to grow, pack and deliver compost worms and help bring a slice of sustainability to around 10,000 households per year.
Our passion is spreading the word of the wonders of the worm and regenerative healthy living through schools, and garden clubs.
We depend on the worms to make us a living,
but they have provided our family with so much more than we could ever have imagined.
We now like to say, we 'live for a living'.
The WormBiz team